Aberdeen Orienteering Course
Course Maps
(Printing on A4 size paper is recommended for accurate map scale.)
Cross Country Courses
Detail
Level
Beginner
Intermediate
Advanced

Length* (km)

2.4

3.4

4.7

Climb (m)

40

80

100

No. of Controls

10

10

12

Map

(click to download)
* Measured as straight line distance between controls.
Score Course / Master Map
Total no. of controls: 26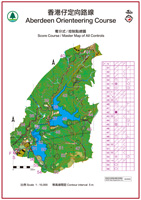 Start and Finish Location
Entrance to Aberdeen Country Park at Aberdeen Reservoir Road
How to get there:
Travel by public transport to Aberdeen or Shek Pai Wan. Walk up hill along the Aberdeen Reservoir Road to a road barrier.
For more information on orienteering, click here.